Powerful Elegance and Innovation Delivered by INFINITI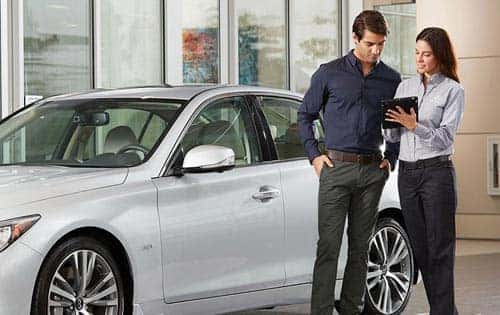 It all began with a great idea in 1985. The team behind INFINITI set out to launch a new kind of luxury in the world of automobiles. The original idea was further developed until years later in 1989 when they made their mark in the world. The world put a spotlight on the brand, INFINITI, and it was their turn to make an impact.
What Does INFINITI mean?
Derived from the word infinity or infinite, it means that there is no end to it. In other words, they aim to be always changing and bringing something new. Innovation is one of the best-selling points of INFINITI and the continuous aim to evolve is what makes many people so attracted to the brand.
The logo of INFINITI shows a road with no end. The logo is fitting with their concept of always trying to make the best of everything. The brand continues its pursuit of always expanding and testing the limits. They go beyond and push the boundaries as they try to deliver the best of the best.
Powerful Elegance At INFINITI
The cars are designed to be greatly powerful and to perform their best. However, power does not have to be expressed in a loud or rough way. Rather, INFINITI aims for powerful elegance where everything is sleek and minimal. The cars mesh these two themes that were once believed to be on the opposite sides of the spectrum and make them work in ways nobody else has ever seen or even tried before.
Backed by Science
When INFINITI claims "powerful elegance," they do not just mean its physical appearance. Rather, the design is backed by science, and everything contributes to the aerodynamics of the vehicle. The design serves a purpose that is more than just what meets the eye.
Going Back to the Roots
Japan is well-known for its innovative but minimalist lifestyle. Influenced by its Japanese heritage, the brand delivers elegant designs with excellent features. Ever since the launching of the brand and even to later models, this minimalist design has come to the surface.
It is this more simple and minimalist design that made INFINITI a popular choice. Opposing the chunkier and more eccentric designs in the market, INFINITI allows for an option to keep it simple.
Beyond the exterior, the luxury continues throughout the interior. It is not just luxury, however, but a comfortable and welcoming experience. With the use of both chic and ergonomic design, everyone who enters the vehicle will surely feel its comfort. It is not just luxury for the sake of being luxurious, but it is luxury that delivers everyday comfort.
Moving Forward
INFINITI continues to move forward as they take steps further. The future for INFINITI's vehicles now relies on electric parts, which gives them more room to experiment and create. INFINITI continues with its innovations that nobody else can deliver, and as the future comes, INFINITI ensures that it will never get left behind both in design and in performance.
Conclusion
INFINITI will continue to deliver its promise of powerful elegance and continuous innovation. With technology becoming even more advanced, INFINITI has done its part to keep up with what is new and continues to innovate itself.
If you are looking for an INFINITI dealership in Ajax, Ontario, you can visit Ajax INFINITI. Check out our selection of new and pre-owned vehicles at affordable prices. Contact us to learn more.